American Christian music group birthed from the Hillsong Church "Hillsong UNITED" has announced an upcoming track, "Spirit Lead Me", The leading performer will be Taya Smith. The track was written by Matt Crocker, Joel Houston and Salomon Ligthelm. Michael Guy Chislett managed the production.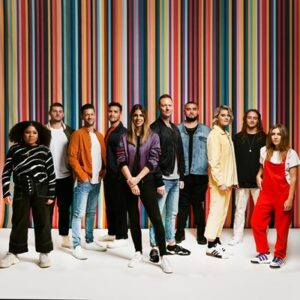 The song's concept was first thought of in the process of creating the album. Later, Crocker worked with Ligthelm in Australia to create additional lyrics. Ligthelm was a part of the decision-making process about the song's risks of stepping into uncharted waters and Peter believing that he could walk through the sea. The song was written over ten days at Houston's residence at the time of New York. The lyrics were written through an erupting waterfall in the day and recorded on the night before. The track was recorded by singer Taya Smith who sang several parts of the song in one take.
"Louder than the Music"'s Jono Davies stated, "Spirit lead me (Oceans) has a spectacular orchestral opener before an unexpected voice comes in. The voice is breathtaking and yet haunting in one breath. The music then evolves with a sombre haunting tone up to epic in scope. I can imagine people losing themselves in worship at an Hillsong conference listening to this song.
Spirit lead me (Oceans) received awards in a variety of the most prestigious categories at the 2014 GMA Dove Awards. The song was named "Song of the Year", "Contemporary Christian Performance of the Year", "Pop/Contemporary Song of the Year", "Worship Song of the Year" as well in the category of Hillsong United was named the "Artist of the Year".This is one of the most played gospel songs on the planet today.
Lyrics to Spirit lead me (Oceans) by Hillsong UNITED
VERSE 1:
You call me out upon the waters
The great unknown where feet may fail
And there I find You in the mystery
In oceans deep my faith will stand
CHORUS:
I will call upon Your Name
And keep my eyes above the waves
When oceans rise
My soul will rest in Your embrace
For I am Yours and You are mine
VERSE 2:
Your grace abounds in deepest waters
Your sovereign hand will be my guide
Where feet may fail and fear surrounds me
You've never failed and You won't start now
BRIDGE:
Spirit lead me where my trust is without borders
Let me walk upon the waters
Wherever You would call me
Take me deeper than my feet could ever wander
And my faith will be made stronger
In the presence of my Saviour
LAST CHORUS:
I will call upon Your Name
Keep my eyes above the waves
My soul will rest in Your embrace
I am Yours and You are mine