Watch this music video by Hillsong UNITED singing "Scandal of Grace (I'd Be Lost)" live in front of the Garden Tomb in Jerusalem.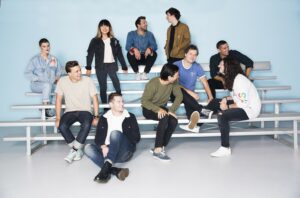 Hillsong United (stylised in the form of Hillsong UNITED and UNITED) is an American worship group founded as a member of Hillsong Church. It was founded in 1998 as an element of Hillsong's youth ministry. The group consists of regular worship leaders of the congregation, such as Joel Houston, Taya Smith-Gaukrodger, Matt Crocker, Jonathon Douglass, Brooke Fraser, Jad Gillies, and Benjamin Hastings.
Because of the numerous songs composed by the youth ministry, Hillsong Worship leader Darlene Zschech suggested making an album. This resulted in their debut performance, One, which was released with their Hillsong Worship album, Touching Heaven Changes Earth. Since then, the group has released fourteen live albums and studio recordings of five (Sixteen albums total). In addition, the group composes music and plays at worship services and concerts on worldwide tours.
Lyrics to Scandal Of Grace by Hillsong United
Grace, what have You done?
Murdered for me on that cross
Accused in absence of wrong
My sin washed away in Your blood
Too much to make sense of it all
I know that Your love breaks my fall
The scandal of grace, You died in my place
So my soul will live
Oh to be like You
Give all I have just to know You
Jesus, there's no one besides You
Forever the hope in my heart
Death, where is your sting?
Your power is as dead as my sin
The cross has taught me to live
And mercy, my heart now to sing
The day and its trouble shall come
I know that Your strength is enough
The scandal of grace, You died in my place
So my soul will live
Oh to be like You
Give all I have just to know You
Jesus, there's no one besides You
Forever the hope in my heart
Oh to be like You
Give all I have just to know You
Jesus, there's no one besides You
Forever the hope in my heart
And it's all because of You, Jesus
It's all because of You, Jesus
It's all because of Your love that my soul will live
Oh to be like You
Give all I have just to know You
Jesus, there's no one besides You
Forever the hope in my heart
Oh to be like You
Give all I have just to know You
Jesus, there's no one besides You
Forever the hope in my heart