Being a long-time lover of Christian worship music and credit the biblical messages behind Christian songs for our salvation, female worship leaders have been of great blessing through there contributions made by in gospel music. In Nigeria, the gospel music industry has seen tremendous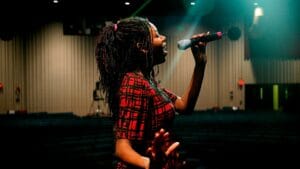 growth in recent years. It was once a struggling industry that could not gain mainstream recognition. Although the industry is still thriving, it has many challenges and obstacles. However, today it is a promising career path rather than a dormant one. Recent growth in media houses, radio stations has led to a significant increase in the industry's popularity. This is in addition to the influence of the internet and technology. An estimated 45% of Nigeria's top gospel artists are female. Below is a list of female gospel artists that have achieved high ratings and great success in the media, online and on television. Their voices have led some amazing worship services over the years. These are in conjunction with the latest worship releases. Because of their prominent status, we would seek out Female worship leaders in Nigeria. It is also due to the wide acceptance and gospel honors that they have been acknowledged. You should listen to these projects from these Nigerian Female worship Leaders if you haven't already.
Here are the Top Female worship Leaders in Nigeria 2022.
1. Sinach
Osinachi Kalu Ojo Egbu is a Nigerian singer and songwriter. She is also a senior female worship Leader at Loveworld. She is known for being a woman of worship. Her songs have been heard across borders, states, and nations. Sinach's songs have become household and worship favourites. Sinach is also signed to LoveWorld Records and a key member of the Christ Embassy music team. She has quickly become a household name. Sinach has more than 200 songs to her name. Sinach had an amazing year ministering at events and working on her music. She is known for inspiring the worshipper in all of us. She is the first artist-songwriter to be ranked #1 on the Billboard Christian Songwriter Chart for 12 consecutive weeks.
2. Mercy Chinwo
Mercy Chinwo is a Nigerian gospel singer, songwriter and Female worship Leader. Mercy Chinwo began her singing career in the children's choir at age 8. She later became the music director for her church's adult choir. She also lent her voice to gospel music ministers such as Sammie Okposo and Joe Praize. After that, she began participating in musical contests until she was selected for Nigerian Idol. She won the second season of the Nigerian Talent Show and was soon in the limelight. After winning Nigerian Idol, she landed her first movie role in Yvonne Nelson's film, House of Gold. She starred alongside Majid Michel, Omawumi, and Yvonne Nelson. In 2015, she released her first single Testimony (2015), and then Igwe (2016). Mercy's debut studio album The Cross: My Gaze was released on February 20, 2018. EeZee Conceptz released the 16-track collection of contemporary gospel songs under Dixtrit Media.
3. Tope Alabi
Tope Alabi is also known as Ore ti o commun and Agbo Jesu. She is a Nigerian actress, filmmaker, music composer, and gospel singer. Tope Alabi was the daughter of Pa Joseph Akinyele Obayomi (Nigeria) and Madam Agnes Kehinde Obayomi (Lagos State, Nigeria). Her catchy gospel songs were first popularized more than a decade ago. People still consider her to be one of Nigeria's greatest gospel music artists. Alabi can do almost anything with her music. She has a distinctive voice and can create melodies using a combination of traditional and modern beats. Some of her songs are in Yoruba and include salsa, makossa and hip-hop tracks. After becoming a Christian, Tope Alabi transformed into gospel music. Nigerians crowned Tope Alabi as the Queen of Yoruba Language on 21 May 2019 via Twitter. This was in response to a competition held by United Bank for Africa for their 70th-anniversary celebrations. She is married with two children.
4. Ada Ehi
Ada Ogochukwu Ehi, known by her stage name Ada Ehi, is a Nigerian gospel singer, songwriter, recording and performing artist. She started her musical career at the age of 10 as a backup singer for child star Tosin Jegede. Since joining the Christ Embassy Choir, Ehi has been actively involved in the Music Ministry of Christ Embassy and has performed at Christ Embassy events in several programs worldwide, including in Europe, America and several African countries. Her debut album Undenied was released in November 2009. Lifted & So Fly, a two-disc album, was released in November 2013. She released her third studio album, Future Now, on October 16, 2017. It claimed the number-one spot on iTunes Nigeria on the same day. In 2017, Ehi was named on YNaija's "100 Influential Christian Personalities in Nigeria" list. She won the 2017 Groove Awards for West African Artist of the Year, being nominated alongside Frank Edwards, Sinach, Joe Praize and the Preachers. In 2019 "Only You" was listed as one of the 20 most viewed songs of the decade from Nigeria. On August 26 2021, she received her first YouTube Plaques for reaching 1 million subscribers on YouTube. Ada Ehi is a female worship Leader has helped shape the gospel sound in Africa with her soul-stirring voice and unique blend of contemporary genres.
5. Onos
Onos truly has had a great music career. Onos has performed on stage alongside Gospel Giants such as Fred Hammond, Israel Houghton and Don Moen. Ron Kenoly is also a regular at the major music platforms, one of which is The Experience. She is a gifted singer and songwriter who released her second album, NO LIMITS. Singles from the album have reached number one on the gospel charts. She has been nominated multiple times for awards. She was appointed the Nigerian coordinator of the Women of African Origin Music Ministry (WAOMM) in 2015. Under this platform, she mentors and supports female gospel artists. With her hit single "Call His Name", she has made a mark in Nigerian gospel music. This beautiful, charismatic female worship Leader has saved many souls with her captivating and irresistible voice.
Here are the List Of Top 10 Black Female Gospel Artist of All Time