Casting Crowns Only Jesus is a new track that the band has decided to take over the streets. "Only Jesus" is a track from the American Contemporary Christian and Christian rock group Casting Crowns. It came out as their lead track of the upcoming album for 2018 that bears the same name on the 10th, 2018. The track peaked the number. 3. The US Hot Christian Songs chart became their 26th Top 10 single, the second-highest number of Top 10 songs in the chart's time.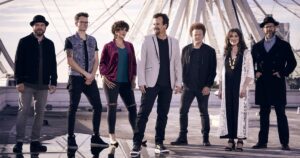 " Casting Crowns Only Jesus" is the story of the frontman Mark Hall musing on the idea of what he'll be remembered for once his time comes to an end. He believes that the only accomplishments are those where Jesus is at work. Hall said: "There's much talk these days about legacy. How do we want to be remembered? The more I think about it, the more I'm reminded that anything in me that's worth remembering are the things that Jesus has worked on and is still working on in me. On my own, I have nothing to offer the world, but Jesus does – so don't mind me. Jesus is the only name to remember."
The entire kingdoms were built, and all the awards earned, all money made, the loss of all relatives and all the precious stones, everything will be dust, and only Jesus will be left.
Lyrics to Casting Crowns Only Jesus Lyrics + Music
Make it count, leave a mark, build a name for yourself
Dream your dreams, chase your heart, above all else
Make a name the world remembers
But all an empty world can sell is empty dreams
I got lost in the lie that it was up to me
To make a name the world remembers
But Jesus is the only name to remember
And I-I-I… I don't want to leave a legacy
I don't care if they remember me
Only Jesus
And I-I-I… I've only got one life to live
I'll let every second point to Him
Only Jesus
All the kingdoms built, all the trophies won
Will crumble into dust when it's said and done
'Cause all that really matters
Did I live the truth to the ones I love?
Was my life the proof that there is only One
Whose name will last forever?
And I-I-I… I don't want to leave a legacy
I don't care if they remember me
Only Jesus
And I-I-I… I've only got one life to live
I'll let every second point to Him
Only Jesus
Jesus is the only name, Jesus is the only name
Jesus is the only name to remember, ooh
Jesus is the only name, Jesus is the only name
Jesus is the only name to remember
And I-I-I… I don't want to leave a legacy
I don't care if they remember me
Only Jesus
And I-I-I… I've only got one life to live
I'll let every second point to Him
Only Jesus
I… I don't want to leave a legacy
I don't care if they remember me
Only Jesus